From 29 April onwards, Brussels will be entirely devoted to the contemporary jewel
Discover more than 120 unique jewels throughout the exhibition - In Fieri - at MAD Brussels during the Brussels Jewellery Week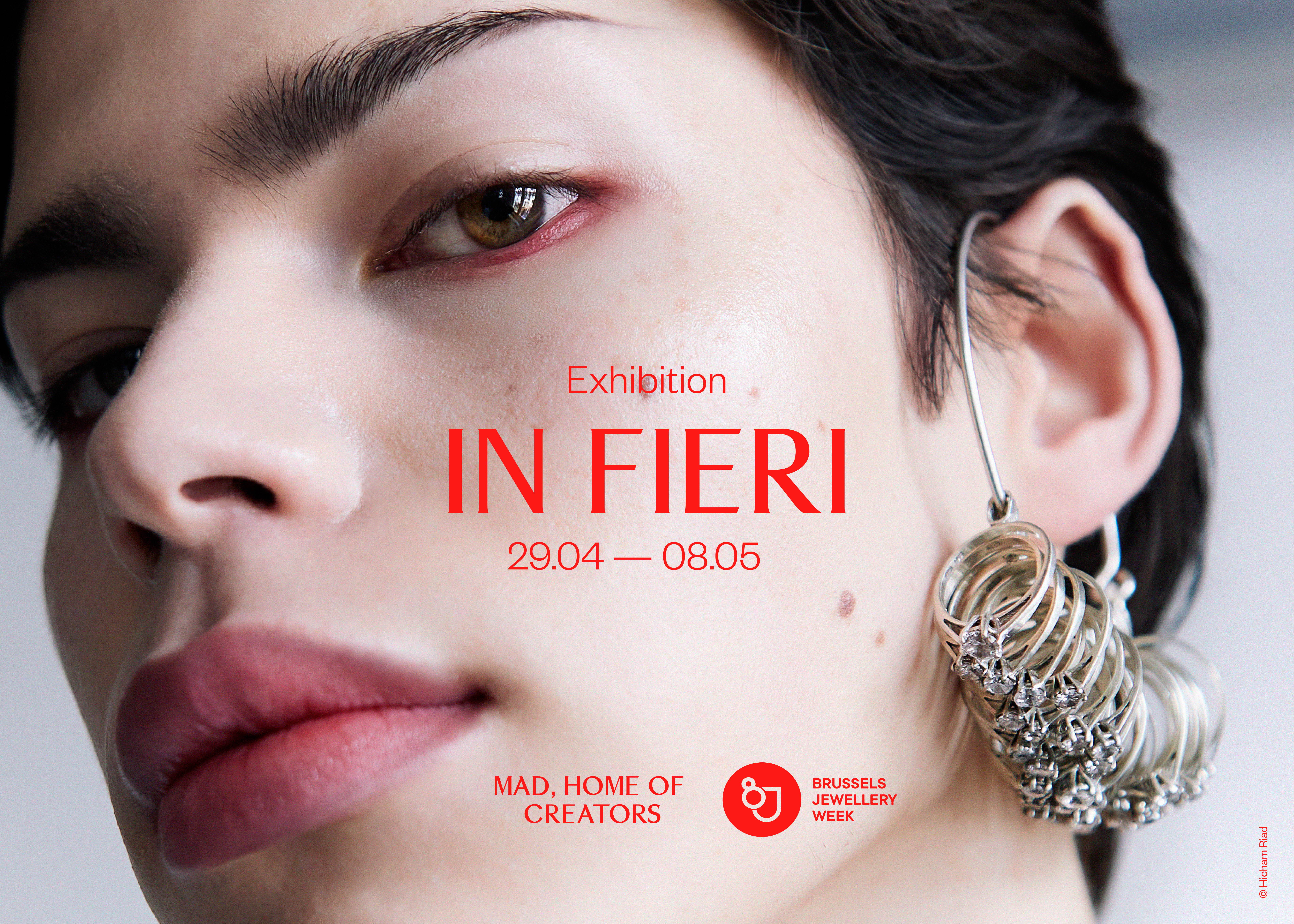 Contemporary jewellery is difficult to categorise. Is it an object, an accessory or an art installation? Its hybrid character is not only nourished by diverse art forms, but also by design, architecture, fashion and technology. Modern design opens up the fields of the impossible and allows designers to push the limits of substance research. Their creations play with traditional codes, free themselves from aesthetic conventions and draw inspiration from the most diverse materials. Fascinating, sometimes disturbing, contemporary jewellery questions our bodies, and exhales new dreams and meanings. 
Exposition In Fieri
Is a jewel a fashion accessory, a research project or an innovative piece of product design? Maybe it could be all of this. Entitled In Fieri, the exhibition takes a closer look at the changes in the world of contemporary jewellery. Those changes can be interpreted in different ways, from socially responsible and engaging designs to innovative discoveries or challenging ways of wearing. Not only is the beautiful gem in motion, the artists often undergo an evolution in their design language as well.
No less than 51 artists from 22 countries present surprising yet personal jewels. Arata Fuchi's ring tells the story of an old local Japanese tradition in which the Amaryllis flower is used to honour the souls of ancestors. Jess Bischoff found the inspiration for the design of the Core Sample ring in her interest in Martian astrogeology. The way Bischoff manipulates the material mirrors the way the Perseverance Rover collects geological samples, or core samples, on Mars. Whereas Lorena Jarpa tries to reflect her own personality in her jewellery, Suyu Chen's creations are rather the results of her research. Through her creations, Chen explores the relationship between custom and self-awareness, traditional art objects and modern mass production. Charlotte Van de Velde in turn presents a poetic object. Her Solitaire Ring Sizer, consists of a collection of antique, used rings, whereby the original functional aspect disappears completely. 
List of designers participating in the exhibition: Wieke Aerts (BE), Nicole Beck (DE), Anneleen Bertels en Lindsey Fontijn (BE), Jess Bischoff (CA), Alexander Blank (DE), Burcu Büyükünal (TR), Suyu Chen (CN), Andreea Cojocaru (RO), Pia David (BE), Siegried De Buck (BE), Carole De Vleeschouwer (BE), Martine De Vos (BE), Adeline Delcourt (BE), Marta Dobrynina (BE), Daria Edström (SE), Anja Eichler (DE), Silke Fleischer (BE), Frederic Frenay (BE), Kathleen Frisson (BE), Arata Fuchi (JP), Els Gadeyne (BE), Fumiko Gotô (JP), Francesca Guarnieri (IT), Cheng Shun Hsieh (TW), Lorena Jarpa (CL), Annelieke Landré (NL), Namkyung Lee (KR), Ria Lins (BE), Peleg Matityahu (IL), Yael Olave (ES), Janne Peltokangas (FI), Delphine Perrache (BE-FR), Alessia Prati (IT), Alain Roggeman (BE), Luca Sàgi (HU), Teodor Siminic (RO), Elke Stegen (BE), Hansel Tai (EE), Taai Teevet (EE), Kelly Temple (USA), Birgit Thalau (LU), Youjin Um (KR), Olivia Van Damme (BE), Charlotte Van de Velde (BE), Diederick Van Hovell (BE), Véronique Van Lierde (BE), Nelly Van Oost (BE), Valentijn Vanmeirhaeghe (BE), Marley White (USA), Marie-Thérèse Wolf (IT), Shuoran Zhou (USA).
Press event
On Thursday 28 April, from 9h to 13h, there will be the possibility for a press moment by appointment. Are you interested in getting a preview of the In Fieri exhibition at MAD Brussels? Please contact:
---
Practical information
29 April 2022 - 8 May 2022
The exhibition In Fieri takes place at MAD Brussels: Nieuwe Graanmarkt 10, 1000 Brussels. The exhibition is open to the public, free of charge, every day from 10 am to 6 pm. During the weekend and by appointment, guided tours are organised in French, Dutch and English.
This exhibition is organised by Les Brucelles in collaboration with MAD Brussels and is part of the first edition of the Brussels Jewellery Week. Besides the exhibition at MAD, you can visit the Be.NEXT exposition in the Marolles area, where several jewellery institutions show student work. Furthermore, the BJW Tour takes you on a walk along the participating studios and independent jewellers in the capital.
For more information: www.brusselsjewelleryweek.com
---