Spring edition Brussels Fashion & Designers Sales brings young and established design talent together
On 19, 20 & 21 May 2022, MAD Brussels, Knack Weekend and Le Vif Weekend organise the spring edition of the Brussels Fashion & Designers Sales!

Soon the second edition of the renewed MAD sales will take place. If you love Belgian fashion, you will have the chance to make a fashionable purchase at interesting prices at MAD Brussels at the end of May. This is the moment to get your hands on a piece of clothing, an accessory or an object by a Brussels designer, such as Sarah De Saint Hubert, Doriane van Overeem or Annemie Verbeke. In addition to the sales at MAD Brussels, brands will also participate from their own studios or shops throughout the city of Brussels. Among others Stijl, MaisonÉlise, Erratum Fashion, Atelier Margo and Janue will be present.
In the showcase of MAD Brussels, textile designer Christoph Hefti presents an eclectic pop-up boutique. He will present an exclusive collection of cushions, made of dead stock fabrics, which will be sold in a limited edition. The showcase installation creates a total experience for the visitor; the cushions, the seating elements, the curtains and the carpet are all made of the same eye-catching and colourful fabric. As a designer he worked for Dries Van Noten, Lanvin, Balenciaga and Mugler, among others. His own work is shown and sold at Galerie Maniera in Brussels. An excellent opportunity to acquire one of his beautiful prints.
The stand of young fashion talent Fernando Miro and Alizée Loubet, finalists of the 37th edition of the Hyères International Fashion Festival later this year, gives visitors an insight into the unique universe of their label Mipinta. Driven by the environmental and social challenges that define our times, he commits to reusing existing materials, working in a circular way and offering new solutions to make fashion. Mipinta offers a varied, alternative and optimistic interpretation of contemporary menswear. 
List of designers participating with a booth at MAD Brussels: Christoph Hefti, Mipinta, Farrah Floyd, Caroline du Chastel Jewellery, Annemie Verbeke, Catalina J, Slip Belge, Raffaelien Studio, Les Vraies Filles, Valerie Bourgoin, ​ Sarah de Saint Hubert, Flore de Sermet, Doriane van Overeem, Charlotte Thomas, Valérie Berckmans, Conni Kaminski, An Buermans, Komono, Vimpelova, ​ Jessie Lecomte, ORIIReUp, Els Mommaerts, Just in Case.
List of designers participating from their own studio or shop: Farrah Floyd, Max & Lola, Julie Menuge, Audrey Ickx, n.d.c. made by hand, MaisonÉlise, Janue, Atelier Margo, Deborah Velasquez, Erratum Fashion, Stijl men & Women, Stijl Women, CYCLUP, Anna Tanaka.
Practical information 
Opening hours MAD Brussels:
Thursday 19 May, 17:00 - 21:00
Friday 20 May, 11:00 - 19:00
Saturday 21 May, 11:00 - 19:00
For participating brands with their own stores, the opening hours communicated by the owner of the store itself apply.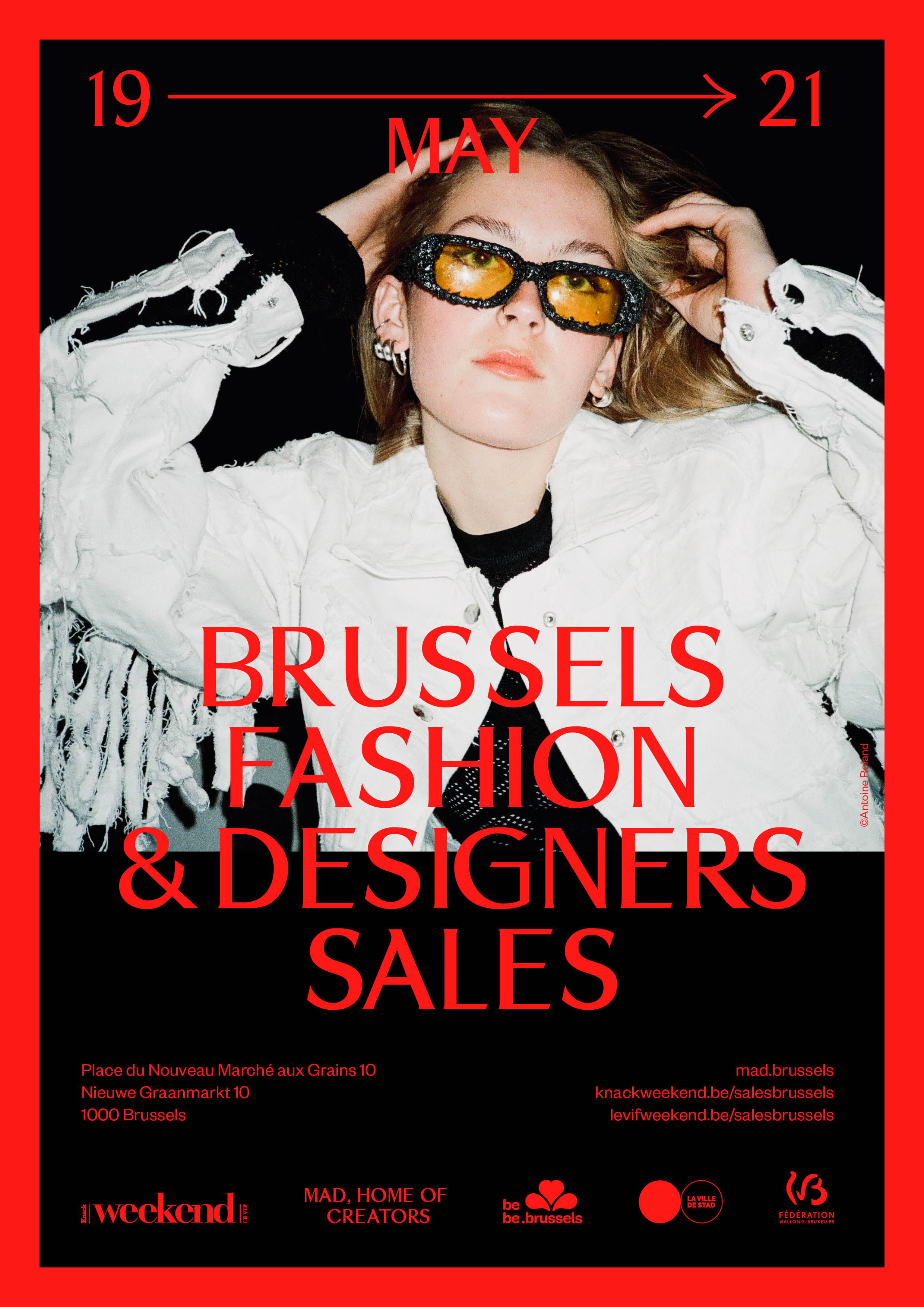 ---

---
For further information or interview requests, please contact: