Tattoo Flash Days: Jaime Hayon x Lieven André
December 8th and 9th at MAD Brussels
As part of the exhibition NUEVO NOUVEAU by artist and designer Jaime Hayon, MAD Brussels is organising two Tattoo Flash Days on December 8th and 9th. During the event, the public will have the chance to have an exclusive design by Spanish artist and designer Jaime Hayon tattooed on their body.
Brussels-based tattoo artist Lieven André turned several of Jaime Hayon's drawings into his own. The result is a range of playful, colourful and surreal designs. The tattoos will remain a surprise until December 8th, as participants can only discover them on the spot. Just a preview of the designs will be shared with the public in advance. Each tattoo is unique and will only be able to be chosen once. Everyone will therefore go home with a tattoo that no one else has, or will ever have.
Who is Lieven André?
Lieven André is a graphic designer from Brussels who reskilled as a tattoo artist. Before starting tattooing, he worked for 5 years as a freelancer in various sectors such as architecture, fashion and catering. Currently, he has been active as a tattooist for 3 years, 2 of which have been with his own studio in Brussels. He is also active as a graphic designer and painter.
Lieven André draws a lot of inspiration from fashion, architecture, art and art history in general. His tattoo style is characterised by his unique colourful creations. He holds this colourful aspect in common with Spanish artist and designer Jaime Hayon. Lieven's multi-coloured designs fit perfectly with Jaime's imaginative universe. The perfect match for the Jaime Hayon x Lieven André Tattoo Flash Days.
Who is Jaime Hayon?
Jaime Hayon (°1974) is a Spanish artist and designer known for his colourful and imaginative designs, interiors, urban installations, sculptures and paintings. He trained at the European Institute of Design in Madrid and then specialised in industrial design at the École Nationale Supérieure des Arts Décoratifs (ENSAD) in Paris. He then joined Fabrica, a research centre of the Benetton group in Italy, where he headed the design department for four years. Finally, Jaime Hayon founded Hayon Studio in 2001.
His oeuvre always reiterates the same principles: optimism, humour and an explosion of colour. Jaime Hayon's style can also be recognised by his abundant use of graphic details, a rich imagination and recurring elements from flora and fauna. Each of his works is therefore a unique treasure trove of ingredients.
Practical information
Friday 8 and Saturday 9 December 2023: 10 am - 6 pm
The Tattoo Flash Days will take place at MAD Brussels: Nieuwe Graanmarkt 10, 1000 Brussels. The event is not by reservation, people can register at MAD Brussels' reception from 10am.
For more information on the exhibition NUEVO NOUVEAU by artist and designer Jaime Hayon: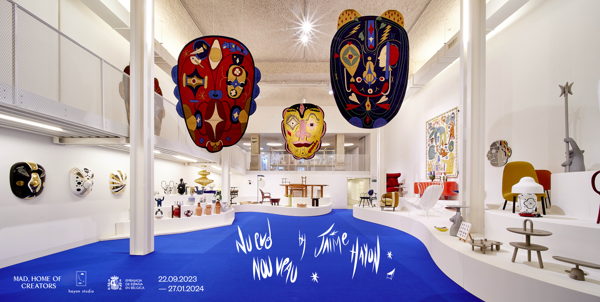 ---

---
Images can be downloaded immediately by clicking on the images in the press release. For more information or interview requests, please contact: